Note! You are looking at documentation for an old version of the package.
Go here
for the latest documentation.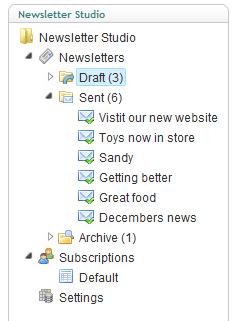 Newsletter Studio doesn't send the message out in the blue. It tracks everything that happens. If it's opened by the receiver, if any links where clicked or if the receiver decided to unsubscribe. You can even see the number of open letters hour per hour during the first week after send out.

All newsletter that are sent gets moved to the "Sent"-folder in the tree. When the message is older than 90 days it gets moved to the "Archive". Clicking on a newsletters brings up the analytics dashboard.